Stock Status:33940
Minimum:1
≥1:
US $27.75
US $26.085
≥5:
US $26.76
US $25.1544
≥10:
US $25.77
US $24.2238
Inquiry
Utsource certified used parts provide the following guarantees
1. Utsource will conduct a comprehensive inspection of the parts to remove fakes, including but not limited to appearance inspection.
2. Some parts are tested by machine.
3. Utsource certified parts can be returned and refunded unconditionally within 60 days.
Introduce this module:
The BSM25GP120 is an IGBT module by Infineon. This is general purpose IGBT that can accommodate almost all simple applications of electronics engineering. The package is rugged and can withstand any type of environment. Not only the package provides excellent isolation, but it has also NTC, temperature sensor. This is assembled to measure temperature and safety is activated in case of over temperature.
This ruggedness and protection against over temperature makes it ideal choice for the application requiring continuous operations and high power electronics
Most commonly it is used in standard and branded drives like VFD & motor drive of different makes and brands like Danfoss & LS
Some Core parameters of the module
● Repetitive peak reverse voltage VRRM; 1600V
● RMS forward current per chip IFRMSM: 40A
● DC forward current: 25A
● Surge forward current (tP = 10ms, Tvj = 25℃) : 300A
● Surge forward current (tP = 10ms, Tvj = 150℃) : 230A
How it use in the work(machine, daily life),
Transistor Brake-Chopper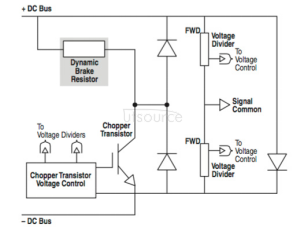 Image courtesy of: Rockwell Automation, Inc.
Transistor Inverter