CM400DY-12H
HIGH POWER SWITCHING USE INSULATED TYPE
Stock Status:33927
Minimum:1
≥1:
US $64.554
US $60.68076
≥2:
US $60.2504
US $56.63538
≥5:
US $59.38968
US $55.8263
≥10:
US $58.0986
US $54.61268
≥20:
US $57.23788
US $53.80361
≥30:
US $56.80752
US $53.39907
≥50:
US $56.37716
US $52.99453
≥100:
US $55.9468
US $52.58999
≥500:
US $55.08608
US $51.78092
Inquiry
Utsource certified used parts provide the following guarantees
1. Utsource will conduct a comprehensive inspection of the parts to remove fakes, including but not limited to appearance inspection.
2. Some parts are tested by machine.
3. Utsource certified parts can be returned and refunded unconditionally within 60 days.
Introduction:
Power ex Modules GBTMOD? they are designed to be used in transition applications. Each module contains of two IGBT Transistors in each half-bridge configuration transistor for fast internet recovery wheel-free diode. All the elements and links are separated from a heat sink engine, which provides a simplified system assembly and fuel management.
Core Parameters:
● Low Vce
● Low drive power
● E-Mode is also present i.e. Enhancement-mode.
● Shrinking module for easy heat sinking
Equivalent Circuit Diagram: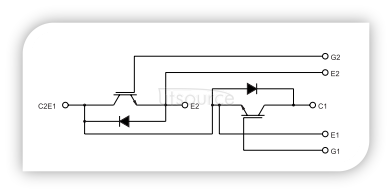 Important Characteristics:
Maximum Ratings:

Working:
The IGBT module is a necessary tool for the use of the inverter in many types of industrial equipment from 1990.Basically, this module is an insulated gate bipolar transistor used for high switching. IGBT combines with the low value of saturation voltage of transistor with high speed and high impedance of MOSFET. When both these combined with each other they produced a high switching and provide a conduction current to bi-polar transistor and voltage is controlled by MOSFET.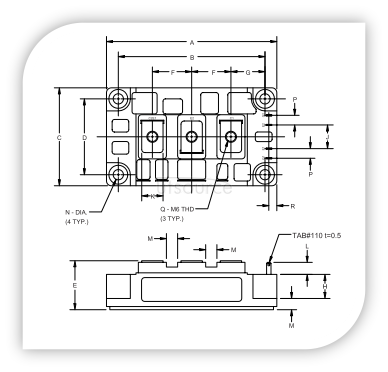 Applications:
● Devices which are fast in nature
● Control of electrical equipment's
● Motor Control Applications
● Servo Motor Controls mostly in robotics
● Laser Beam Controls used for diagnostic purposes