TDB6HK124N16RR
Utsource certified used parts
Half Controlled Bridges with BC and NTC; Package: AG-ECONO2-1; VDRM/ VRRM V: 1,600.0 V; IFSM max: 550.0 A; Housing: EconoBRIDGE? ; Configuration: Half controlled Bridge with Brake Chopper and NTC ;
Stock Status:15746
Minimum:1
≥1:
US $87.912
US $82.63728
≥2:
US $85.248
US $80.13312
≥5:
US $79.92
US $75.1248
≥10:
US $78.8544
US $74.12314
≥20:
US $77.7888
US $73.12147
≥30:
US $77.256
US $72.62064
≥50:
US $76.1904
US $71.61898
≥100:
US $75.6576
US $71.11814
≥500:
US $74.592
US $70.11648
Inquiry
Maximum Gate Trigger Voltage:
2.5V
Maximum Gate Trigger Current:
150mA
Maximum Holding Current:
200mA
Rated Average On-State Current:
125A
Repetitive Peak Reverse Voltage:
1600V
Surge Current Rating:
650A
Peak On-State Voltage:
1.35V
Repetitive Peak Forward Blocking Voltage:
1600V
Repetitive Peak Off-State Current:
10mA
Dimensions:
107.5 x 45 x 17mm
Maximum Operating Temperature:
+125 °C
Minimum Operating Temperature:
-40 °C
Utsource certified used parts provide the following guarantees
1. Utsource will conduct a comprehensive inspection of the parts to remove fakes, including but not limited to appearance inspection.
2. Some parts are tested by machine.
3. Utsource certified parts can be returned and refunded unconditionally within 60 days.
Introduction:
The development of electronic control by electronic means is started by the use of thermionic and gas valves. These devices include a mercury arc converter and thyristors and ignitrons. Gas-filled triangular thyristors are used mainly to exchange heavy frequrents.For rapid advances in semiconductor technology, miniaturization of electronic circuits replaces these thermionic valves and exhaust valves as a result of using power diodes and -transistors of energy in many industrial applications. I knew tendency for fabric technology has developed thyristors that exhibit similar characteristics of gas tube thyristors.
Core Parameters:
● Operate in switching mode
● Small gate current
● Anode current is large
● When it is forward biased it conduct current
Circuit Diagram: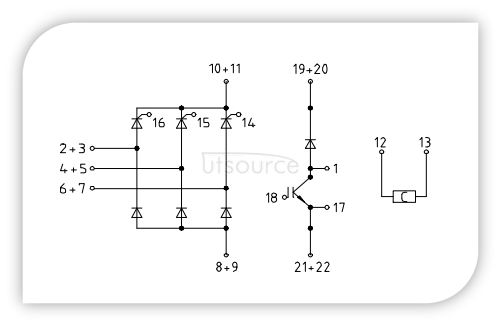 Working:
At the beginning of each positive SCR cycle "Off". In use gate pull causes the SCR to begin to be activated and remains permanently inserted into the "ON" time of the positive cycle. If the thyristor is caused at the beginning of the half cycle (θ = 0o), the load (torch) will be "turned on" by a full cycle AC waveform (half-wave repainted AC) at a maximum voltage of 0.318 x Vp. goes up once per half cycle (θ = 0o to 90o), the lamp is lighted for a short time and the average voltage placed on the lamp will also reduce its brightness. Thyristor name is derived from a combination of two words such as thyristor and transistor. Due to improved reliability, increased thermal performance and lower production costs, these thyristors are widely used in many applications.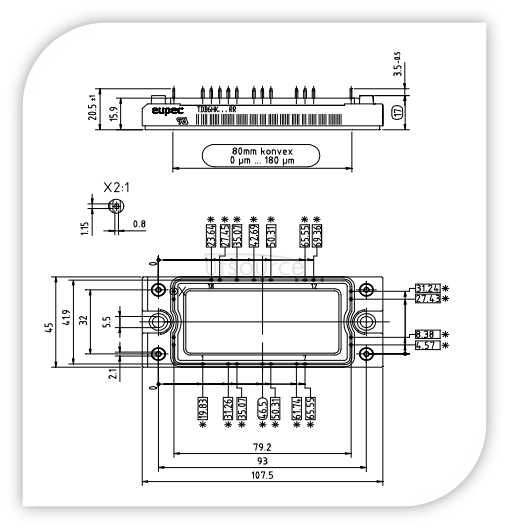 Applications:
● Speed motor drive variable in nature
● AC motors
● Circuit breaker
● Fault current limiter