Stock Status:33951
Minimum:1
≥1:
US $8.3484
US $7.8475
≥5:
US $8.1165
US $7.62951
≥10:
US $7.6527
US $7.19354
≥20:
US $7.4208
US $6.97555
≥50:
US $7.1889
US $6.75757
≥100:
US $6.957
US $6.53958
≥200:
US $6.7251
US $6.32159
≥500:
US $6.58596
US $6.1908
≥1000:
US $6.4932
US $6.10361
Inquiry
Utsource certified used parts provide the following guarantees
1. Utsource will conduct a comprehensive inspection of the parts to remove fakes, including but not limited to appearance inspection.
2. Some parts are tested by machine.
3. Utsource certified parts can be returned and refunded unconditionally within 60 days.
Description
General Purpose Inverter Uninterruptible Power Supply Servo & Spindle Drive for NC Machine Tools Robotics (Servo Drive for Robots)Switching Power Supplies for Welding Machines Absolute Maximum Ratings
Features
● High Arm Short Circuit Capability
● High DC Current Gain
● nc1uding Free Wheeling Diode
● Insulated Type
Introduction:
This transistor module is basically a transistor power module. Main function of this device is high current gain which is direct current in nature also used for switching purpose having diode installed in the circuit. Fuji is the company which produces this ic in bulk.
Core Parameters:
· High DC current gain
· Wheeling diode
· For the control of motors
Working:
Therefore there will be no current flow flow at the transistor base where IBE = 0, and there will be no current output from the collector to the emitter since IC = IB = 0 indicating that the transistor is in a state determined by the circuit. . But a small portion of the leaking current flows the transistor from the collector to the emitter i.e., ICEO.
The transistor is said to be an idle condition only if the emitter circuit transmits the selectors and collectors. Thus, there will be an IB current flow in the transistor circuits and a current IC flow through the accumulation of the transistor emitter. When IB increases the IC also increases.
Circuit Diagram: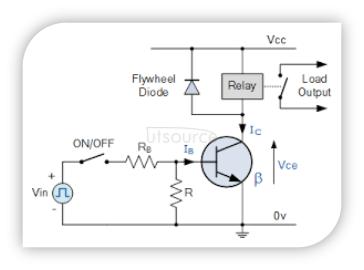 Applications:
· Alternating Current motor controls
· Direct current of motor controls
· In many products like uninterruptable power supply