Capacitive Fingerprint Reader
Utsource certified used parts
Stock Status:21573
Minimum:1
≥1:
US $38.99
US $36.6506
Inquiry
Part Number:
Capacitive Fingerprint Reader
Utsource certified used parts provide the following guarantees
1. Utsource will conduct a comprehensive inspection of the parts to remove fakes, including but not limited to appearance inspection.
2. Some parts are tested by machine.
3. Utsource certified parts can be returned and refunded unconditionally within 60 days.
Details
Capacitive Fingerprint Reader, onboard processor STM32F105, commercial fingerprinting algorithm, semiconductor sensor
Overview
The Capacitive Fingerprint Reader is a standard fingerprinting module designed for secondary development, allows fast and stable fingerprint verification.
Based on a high-speed digital processor STM32F105R8, combined with high-security commercial fingerprinting algorithm, and advanced semiconductor sensor, the Capacitive Fingerprint Reader becomes a simple but smart integration module, provides functionalities like fingerprint enrolling, image processing, feature finding, template generating and storing, fingerprint matching and searching, etc.
Features
Easy to use by some simple commands, you don't have to know any fingerprint technology, or the module inter structure/calculation
Commercial fingerprinting algorithm, stable performance, fast verification
Sensitive detection, just touch the collecting window lightly, without pressing
Allows to freely input/output fingerprint images, fingerprint feature file and other fingerprinting actions
Dual communication, UART or USB
Processor will enter sleep and wake up when detecting, achieves low power consumption
Comes with rich related resources (software on PC, development SDK, tools, and examples for Raspberry/Arduino/STM32)
Applications
Fingerprint lock
Fingerprint safe deposit box
Access control system
Clock in and out
Specifications
Parameter
Value
Processor (CPU)
STM32F105
Sensor
Semiconductor (capacitive)
Module dimension (mm)
45 x 30
Sensor dimension (mm)
33.4 x 20.4
Image
DPI 508
Image resolution
192 x 192
Sensing area (mm)
9.6 x 12.8
Fingerprint capacity
3000
Security level
0-9 low to high security, 5 by default
Matching time
1s
False acceptance rate
0.0001%
False rejection rate
0.01%
Dynamic current
<60mA
Operating voltage
3.3V-5V
Communication
UART or USB
Anti-electrostatic
aerial discharge: ± 15KV
contact discharge: ± 8KV
Dimension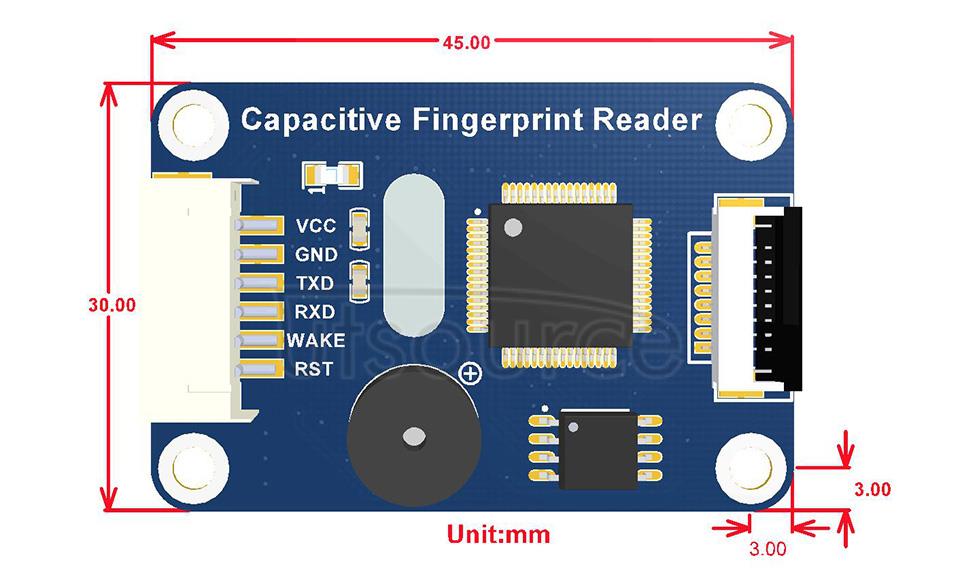 Development Resources
Wiki : www.utsource.net/wiki/Capacitive_Fingerprint_Reader
Recommended Items
We also provide this USB to UART Module for easy testing: CP2102 USB UART Board (micro)
Selection Guide
Product
UART Fingerprint Reader
Capacitive Fingerprint Reader
UART Fingerprint Sensor (C)
UART Fingerprint Sensor (R)
Type
Optical fingerprinting module
Capacitive fingerprinting module
Pros
Low cost, durable, excellent anti-electrostatic
Small collecting area, high precision, good at detection and verification
Small form factor, low power consumption
Cons
Large dimension, low precision, interfered by lighting
High environmental requirement (temperature, humidity, dust, alkaline air)
Features
Rectangle-shaped, separated structure
Round-shaped, all-in-one
Rectangle-shaped, all-in-one
Fingerprint capacity
4000
3000
500
3000
Image pixels
248×296
192×192
192×192
Interface
UART
UART, USB
UART
False acceptance rate
<0.001%
0.0001%
<0.001%
False rejection rate
<0.1%
0.01%
<0.1%
Sensor life time
10 years
about 200,000 times
about 1,000,000 times
Use condition
More sensitive for wet fingers
More sensitive for dry fingers
Applicable products
Used frequently, like access control system
Require high precision, like fingerprinting lock
Generally, optical modules are used in low-end products, while capacitive module are suitable for high-end products